Quickly gaining the trust and quelling any skepticism of leads is a top priority for every law firm. If you're unable to accomplish these two things, the odds of a prospect actually inquiring into your legal services is pretty small.
So how do you do this?
One of the more common techniques is to offer testimonials where former clients sing the praises of your firm. But what if you could take it one step further and "connect the dots" so that prospects can really get a sense of what it would be like for you to handle their case?
Creating a video testimonial is just the ticket.
A Study on a Text vs. Video Testimonial
So you may be wondering if this tactic is really worth your time. Will it really make that big of a difference to put in the extra effort to shoot a professional video testimonial?
According to a study from Unbounce, it most definitely is. In an article on the psychology of conversion rate optimization, they discuss a simple A/B test they performed to decide which format was better — traditional text or video.
Here's what Page A looked like.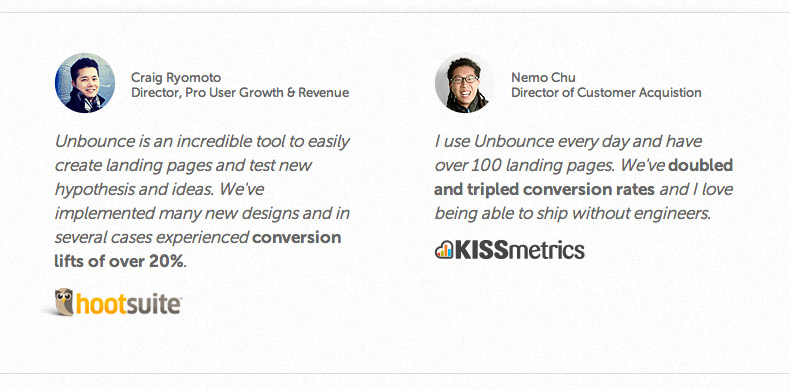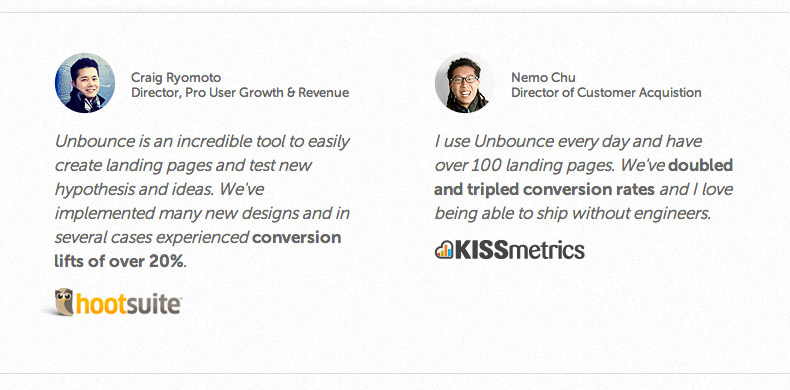 Notice that it's quite professional and includes images of customers as well as brand logos of the companies they're associated with.
Here's what Page B looked like. It still contains the quote from one customer but also includes a brief video.


The Results
After implementing Page B — the video, Unbounce's conversion rate increased significantly by 25 percent, which is extremely impressive. Just think of the impact it would have on your law firm's overall revenue if you could lift conversions by 25 percent.
Something to Consider
While it's impossible to tell just how much your law firm would increase conversions, it's safe to say that incorporating a video testimonial would be beneficial. It's one of the quickest ways to establish authority and build trust with your prospects. On top of this, it enables them to get a feel for what your personality is like and what they can expect by having you handle their case.
In just a minute or two, you can essentially go from being a complete stranger a trusted legal expert. It doesn't even need to be anything over top. Even a quick discussion with a former client touching on the benefits of hiring you and their overall experience should be sufficient.
When you look at all of the angles, this is definitely an alternative avenue to consider. It goes far beyond a conventional text testimonial and adds a whole new dimension. If you're looking for ideas and inspiration, just check out this resource from HubSpot. It offers 11 great examples of brands across different industries that have used a video testimonial to their advantage.
Gaining the trust of prospects is essential. It's a way to get your foot in the door and get them motivated to learn more about your services. While testimonials in general are helpful, a video testimonial can take things to a whole new level and should convert more of your leads to actual clients.
Nick Mann has been a freelance writer for over five years and has worked with numerous clients. He writes articles on a variety of subjects, but specializes in business, legal marketing and tech. When not writing, he enjoys playing disc golf, sports, hiking and travel. Nick lives in the Blue Ridge Mountains of North Carolina.
Latest posts by Nick Mann (see all)