There are numerous components of effective law firm web design. One of the most important is choosing what to include above the fold of your site. If you're unfamiliar with this concept, above the fold is simply "the portion of a web page that is visible in a browser window when the page first loads." In other words, it's what your visitors see without scrolling down.
It's important because this is where visitors spend 80 percent of their time. While there has been much debate as to what should be included, the following elements are absolute musts.
Your Logo
First things first. It's crucial that you include your branded logo that you use all over the web as well as on traditional print copy. This instantly provides visitors with a sense of orientation so they know for sure that it's your specific law firm's site that they've landed on. You'll typically want your logo to be at the very top either on the left hand or right hand side of the screen.
However, considering the fact that eye-tracking studies have found that most people read a website in an F-shaped pattern going from left to right, you could make the case that the top, left hand side is ideal.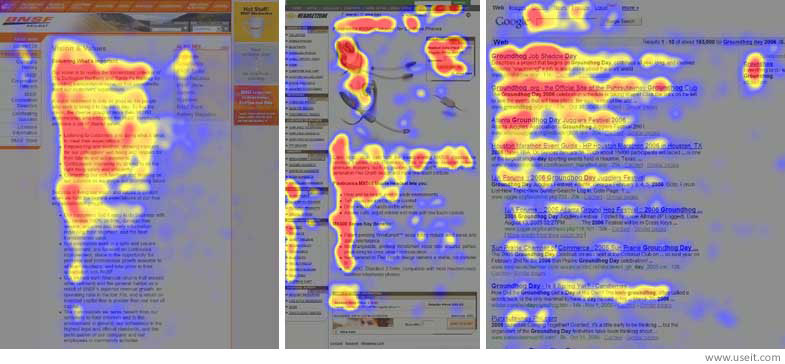 This way you can instantly get that important brand recognition you're going for.
A Unique Selling Proposition
A unique selling proposition (USP) "is a factor that differentiates a product from its competitors, such as the lowest cost, the highest quality or the first-ever product of its kind." Here are a few examples from major brands.
Avis' "We're only number two. We try harder" campaign.
Domino's "30 minutes or it's free" promise.
FedEx's "When it absolutely, positively has to be there overnight."
This is basically a way to explain what your law firm does and what separates you from competitors. It's what makes you special. You'll usually want to position your USP just below your logo so visitors can quickly figure out what you're all about.
Brief Copy
Underneath your USP, you'll want to include just a bit of copy (promotional text) that elaborates on your USP. Here's what SEO company, Ahrefs uses for their copy.
It's quick and succinct and "fills in the gaps" for first-time visitors.
Contact Information
Research from KoMarketing discovered that "64 percent of people want to see contact information on a vendor website homepage." So it only makes sense that you'll want to include this above the fold. You don't have to go over the top, but including your email, phone number or both is a good idea. Not only should this make visitors feel more comfortable with your law firm, it can also increase conversions.
Knowing what to include above the fold on your law firm's website is incredibly important. Considering that most visitors will base their perception of your law firm after spending just a few moments on your website, you definitely want to get it right. Including these four elements will ensure that you cover all of the bases and will encourage visitors to hang around longer.
Nick Mann has been a freelance writer for nearly a decade and has worked with numerous clients. He writes articles on a variety of subjects, but specializes in business, legal marketing and tech. When not writing, he enjoys playing disc golf, sports, hiking and travel. Nick lives in the Blue Ridge Mountains of North Carolina.
Latest posts by Nick Mann (see all)